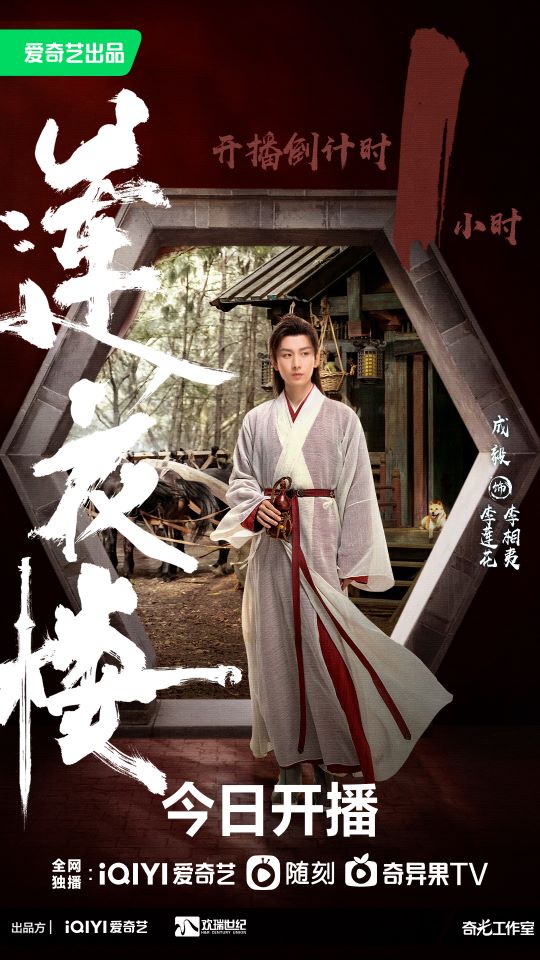 Mysterious Lotus Casebook (2023) 莲花楼
Summary: After suffering a humiliating defeat and becoming gravely injured, Li Xiang Yi (ft Cheng Yi 成毅), master of the famed Si Gu Martial Arts sect, decides to retire from the world of martial arts and instead travels the land as a doctor under the name Li Lian Hua. It's been ten years since his disappearance and recently during his travels he encounters a new friend Fang Duo Bing (ft Zeng Shun Xi 曾舜晞) and old nemesis 笛飞声 (ft Xiao Shun Yao 肖顺尧). He is once again embroiled in the mysteries of Jiang Hu and martial arts

Total Episode Count: 40
Initial Airing Date: July 23, 2023
Platform: iQiyi, CCTV8
*Note – English translations may not match official translations
.
Initial Rating [After 10 episodes] 7/10: A fun drama that is a mix between martial arts and murder mysteries. Cheng Yi handles himself well as the sickly yet brilliant doctor Li Lian Hua. The plot moves quickly and it's a great ride to see the main cast solve cases while also trying to uncover the mystery that led to the battle ten years ago. While it is fun, I'm not seeing much character growth most of the characters. I'm hoping that changes as the drama progresses
Final Rating 7.5/10: The intriguing mysteries move the plot briskly forward which makes for an engrossing watch. The lack of growth for certain characters had me disappointed but overall, this was a fun summer drama that should be enjoyed.
Li Lian hua 李莲花
Cheng yi 成毅
A wandering doctor who was once the powerful master of the Si Gu sect. After some chance encounters, he is embroiled back in the mysteries of Jiang Hu and strives to uncover the truth of the mysteries of the past
fang duo bing 方多病
zeng Shun xi 曾舜晞
Son of the Minister of Revenue and a high ranking martial arts mother, his dream is to reinstate the Si Gu sect to its former glory. He meets Li Lian Hua and believes there's more than meets the eye
Di fei sheng 笛飞声
xiao shun Yao 肖顺尧
The cold an calculating leader of the Jin Yuan Meng, in a battle with Li Xiang Yi ten years ago, he also was severely injured. He returns to Jiang Hu in search of his old nemesis but discovers there are more evil forces at play
Qiao Wan mian 乔婉娩
chen du ling 陈都灵
Former member of the Si Gu Sect and trusted advisor to Li Xiang Yi, she has spent the last ten years searching for him.
Plot overview
Ten years ago, the martial arts master Li Xiang Yi was gravely injured in his duel with archnemesis Di Fei Sheng. Poisoned, injured, and lost at sea, Li Xiang Yi returns to his Sect, but after seeing the devastation and discovering that he only has 10 years to live, Li Xiang Yi decides to disappear from Jiang Hu and travel the land as a wandering doctor as Li Lian Hua in his moveable tower. The young Fang Duo Bing strives to become a detective under Bai Chuan Yuan and reinstate his idol, Li Xiang Yi's sect Si Gu Men, to it's former glory. He encounters Li Lian Hua during several of his early cases and, despite his naiveté and greenness, does his best to try to keep up with Li Lian Hua.
Li Xiang Yi's archnemesis, Di Fei Sheng, returns after ten years of recovery, only to find that Li Xiang Yi has disappeared. Di Fei Sheng needs to find a mythical item to regain his full strength. Li Lian Hua is searching for the same thing in hopes of saving himself. The two reunite and must decide if and how to move past their previous grievances.
Initial Thoughts
Cheng Yi returns to period dramas after last year's long Immortal Samsara and is the clear lead for the drama. This is a pretty fun drama that moves at a brisk pace and Cheng Yi has a great chemistry with his co-stars Zeng Shun Xi and Xiao Shun Rao. It's been doing pretty well ratings wise on iQiYi but it hasn't been a massive hit.
Intriguing Cases – so far, I think the cases are very intriguing. We've got everything from affairs, gold bodies, and tomb raiding! These all move really quickly too, like each case is solved basically in one or two episodes so you really have to pay attention! We basically have Li Lian Hua as the skilled doctor and detective who solves the mysteries and Fang Duo Bing as our conduit for asking how Li Lian Hua solves them. When Di Fei Sheng joins the duo to make a trio, it becomes hilarious as Fang Duo Bing doesn't really know who he is and spends all the time dissing Di Fei Sheng.
Lack of female characters – Look, I understand that this is a heavily male focused drama and I'm usually ok with this but in the first 10 episodes, there currently are only 2 main female characters including the character of Qiao Wan Mian played by Chen Du Ling and Jiao Li Qiao played by Wang He Run. Chen Du Ling / Qiao Wan Mian so far has been relegated to just crying over the disappearance of Li Xiang Yi. I'm hoping there's more female characters or at least more growth to them in the future episodes.
Even though it's a fun drama, I couldn't help but find myself struggling a little bit after the first couple of episodes. I think it's probably for a couple of reasons. For Cheng Yi, I feel like he basically has the same hairstyle in all his non-historical period pieces, so while I think his doing fine as Li Lian Hua, I kind of keep getting déjà vu with several of his other characters. And I'm also being VERY nitpicky, maybe it's just me but I think some of Cheng Yi's mandarin pronunciation is off? That takes me out a little bit of the drama. Lastly, and I believe this will be resolved as the drama progresses, I'm not seeing much character growth from any of the characters which is kind of irksome once we learn the motivations of each character. Maybe because these cases are moving so quickly that I just need to realize I've only watched a quarter of the episodes, but I'm hoping for true character growth from this motley crew because I genuinely enjoy spending time with them.
-Cathy
Final Thoughts
Mysterious Lotus Casebook performed extremely well this summer, breaking 10000 on IQiYI's hot index and becoming the most discussed drama for the weeks it aired. The drama garnered many fans, so much so, that the streaming company IQiYi hosted a live concert for the stars to sing the OST from the drama.
The Brotherhood – the trio of Li Lian Hua, Fang Duo Bing, and Di Fei Sheng have to drive the plot and thankfully there's excellent chemistry between all three of them to make the watch enjoyable. Whether that is solving mysteries, to annoying each other, to finally respecting each other, we saw this bond slowly and organically form with the three of them. Li Lian Hua and Fang Duo Bing took most of the screentime but I like how Di Fei Sheng didn't end up becoming a one dimensional "baddie" turned "good" just for the sake of the plot. The drama is at its best when we focus on these 3 solving mysteries or pairing up with each other to track down the evil forces.
Decent Martial Arts – This drama was billed as a mystery martial arts drama and thankfully the drama delivered with the martial arts. Yes, there was still a lot of CGI that was used for many scenes, but at least we got some hand to hand combat in the drama. I've been sorely missing those scenes and the main 3 leads, Cheng Yi, Zheng Shun Xi, and Xiao Shun Rao all do quite well in those scenes. At least I see them fighting instead of just random cuts.
Real Voices – I mentioned this during my initial thoughts but I was struggling a little bit with Cheng Yi's articulation in this drama. He mumbles quite a bit when speaking and it's quite hard to understand him if I didn't have the subtitles to support. This can also be said of his costar Zeng Shun Xi. I commend many in the cast for using their real voices but if you want to use your real voice, the you better be ready to take the heat if your articulation isn't up to snuff. I saw several posts about these issues by other viewers so thankfully, it wasn't just me who caught this little nit.
Lack of Character Growth [Spoiler] – Perhaps my biggest gripe with this drama is really the lack of female characters and growth for these female characters. We essentially have 2 main female characters Qiao Wan Mian and Jiao Li Qiao. Qiao Wan Mian played by Chen Du Ling is relegated to the old love interest who tries to move on. Across the whole drama, we hear that she's an incredible leader and martial artist but we barely see that. We just see her crying about the death of Li Xiang Yi. Those scenes dragged out way too long.
Jiao Li Qiao, played by Wang He Run, was the biggest question mark for me. Throughout the whole show, her whole motivation was to become Di Fei Sheng's woman. That was how she tied her self worth. She committed atrocities, enslaved people, and killed people all so that she could be the woman standing next to him. We get some information about her backstory but she's essentially evil because her love was unrequited. I don't even think it was love, just lust for power and for him. By the end of the drama, I wanted her to just kick the guys to the curb and truly become an evil baddie instead of still being tied to Di Fei Sheng. It was disappointing to see the stark contrast between the beautiful brotherhood that was built with the 3 leads and the women really playing second fiddle. They didn't have to be the main stars of this drama but it would have been nice to give them more to do rather than revolve around their respective love interests.
-Cathy