The Wolf (2020) 狼殿下 Review
The Wolf premiered in late 2020 staring Wang Da Lu 王大陆 as Prince Bo 渤王, Li Qin 李沁 as Ma Zhai Xing 马摘星 and Xiao Zhan 肖战 as Ji Chong 疾冲.
Summary: The story revolves around a young boy raised by wolves who befriends the young girl, Ma Zhai Xing, in the mountains. The two promise to trust and care for each other but a false murder accusation leads to the two young friends to separate.
Eight years later, the young wolf boy emerges as the powerful Prince Bo, adopted son of the Emperor. The Prince and Ma Zhai Xing meet once again and try to capture magic of their childhood but kingdom rivalries and family allegiances complicate this reunion.
Overall rating: 7.5/10
Exceeded non-existent expectations by Wang DaLu and his chemistry with Li Qin. The soundtrack is an added bonus but be prepared with tissues and for some cliches.
There was actually quite a lot of drama surrounding this drama as it was filmed in 2017 with the now astronomically popular Xiao Zhan as the secondary love interest for Li Qin. Due to an event in early 2020 where Xiao Zhan was essentially blacklisted for a while, this drama captured its opportunity to air in late 2020 and instead of airing episode by episode as we are used to, all 49 episodes dropped at once on QQ.
Many people watched this drama because they were fans of Xiao Zhan thanks to his performance in The Untamed. I personally watched The Untamed after this drama so was not fully aware of his immense fan following and watched The Wolf because I'm a fan of Li Qin.
I would say most people agree with me that though they watched this drama for other people, they became pleasantly surprised by Wang Da Lu's performance as Prince Bo or Bo Wang. Ratings were mixed but viewership was quite high for the show. Wang Da Lu became an instant darling and garnered many invitations to performances and reality shows. This was certainly a highlight of his career.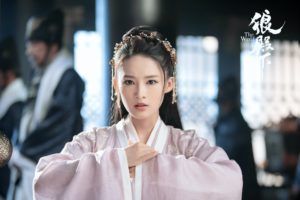 Why you should watch this:
Chemistry between Wang Da Lu's Prince Bo and Li Qin's Ma Zhai Xing.

Wang Da Lu in particular does a phenomenal job portraying a harden young man with the wild side of being raised by wolves but softens when he's with his love, Ma Zhai Xing

You're into cute romance tropes with a sprinkle of betrayal and country allegiances

The episodes where Ma Zhai Xing and Prince Bo spend time together as a couple are incredibly sweet. But then that also means when truths are revealed, it can be devastating. There's lots of tears shed by Ma Zhai Xing.

Prince Bo, the Wolf Prince, is powerful in every sense of the word and leads a loyal team. It's a pleasure watching him go to battle for his team and adopted siblings.
Great secondary character in Xiao Zhan's Ji Chong

First introduced in ep 11, Ji Chong soon becomes fast friends with Ma Zhai Xing and is attracted to her resolute nature. He does his best to protect Ma Zhai Xing and truly respects her.

The Soundtrack is a banger. THE Jolin Tsai offers her voice for the drama's opening theme, This is quite rare but the moment I heard this song, I knew it was Jolin. It adds a rather wild flair to the atmosphere which pairs well with the wolf prince.
High production value
Why You May Want to Pass
I'll be the first to admit, there are many idol drama tropes in this drama. Of course, you have a powerful Prince in Prince Bo in love with the female lead, and they just so happen to meet another capable young man, Ji Chong, who then falls in love with the female lead as well.

But, I'm a sucker for this type of drama especially with this intriguing lead.

The drama tries to portray the female lead as strong and independent, but she ultimately still has to rely on her male love interests.
You also can't think too hard about some of the conflicts that happen. As with many dramas of this nature, I feel like many conflicts could have resolved themselves if people just talked to each other.
Lots of tears are shed after the brief moments of sweetness.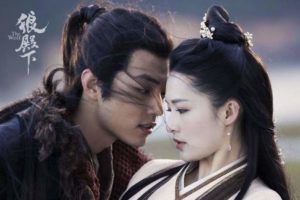 Overall, I personally adored this drama and was really glad I decided to take a shot. It was my drama obsession at the end of 2020. If you can get past some of the basic tropes and not think too hard about the history of the show, it's a fun and emotional ride. It tugs at your heartstrings in all the right places but perhaps be ready with a box of tissues.
Li Qin and Wang Da Lu were on Happy Camp and Day Day Up at the end of 2020/beginning of 2021 and you can tell they've become good friends. Their weibo interactions were also super cute while promoting the drama. Li Qin and Xiao Zhan have worked together on many projects and it shows as they're very comfortable together in the drama as well. I'd say, give it a shot.
-Karen